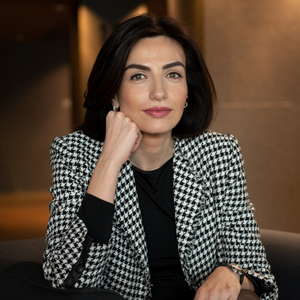 Tamara Tatishvili
International Industry Consultant and Facilitator
As international strategy consultant Tamara comes with deep industry insight, combining a thorough knowledge of film funding and promotion policies with a profound understanding of international training, talent development and film curation. For 15 years Tamara has worked across many areas of the screen industry advising training organizations, markets and festivals internationally.
As Head of Studies, she currently leads the annual vocation training designed exclusively for senior public financiers on national, regional and international levels – MEDICI the Film Journey funded and supported by FOCAL (Switzerland).
Tamara has created strategies for numerous organizations: She advises International Media Support (IMS) of Denmark and develops events in partnership with various co-production markets. As a programmer Tamara is a returning consultant at BOZAR Cinema in Brussels. As an institutional leader, Tamara worked for several years as Director of the Georgian National Film Center. She instigated and embedded a full reform of the institution which resulted in the emergence of a new wave of talented filmmakers.
Tamara is often invited to host various industry events. She mentors at the impACT Lab delivered by Marché du Film of Cannes Film Festival and is involved with other international training programmes. Her producing experience includes award winning Hostages by Rezo Gigineishvili, screened at the Berlinale in 2014.